Product Reviews
What our Customers are saying about DRAQ5™
We find that DRAQ5™ is the most robust DNA dye we have ever used. It stains nuclei much brighter than cytoplasm and allows us to obtain clear images from even the most difficult tissues.


Melinda K Duncan, Professor, University of Delaware
DRAQ5™ is easy to use. In my research, DRAQ5™ was used to determine cellular DNA sets immediately after fluorescence measurement of cellular photosensitizer, giving quantitive analysis of drug uptake. The quality of experiment was excellent.


Yan Baglo PhD, Norwegian University of Science and Technology



DRAQ5™ is the only reagent to be recognised in the Platinum, Gold or Silver rankings amongst the tens of thousands of products listed at SelectScience.net. It was awarded a GOLD Seal of Quality, reflecting the satisfaction of scientists around the world who chose DRAQ5™ for their research.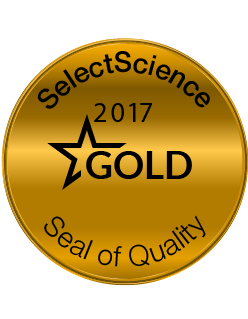 DRAQ5™ wins GOLD Seal of Quality in Independent Customer Review (PDF)
The Science
DRAQ5™ is a small molecule (412DA) belonging to the anthraquinone family. It has peak absorbances at 600nm and 646nm. It fluoresces in the far-red / near infra-red (NIR) peaking at 697nm (bound to dsDNA). On a flow cytometer it is possible to detect DRAQ5™ using blue laser (488nm) excitation.



DRAQ5™ readily permeates the lipid bilayer of cell membranes and intercalates with high affinity to dsDNA. There is no fluorescence enhancement on binding, thus the measured fluorescence is proportional and stoichiometric to the quantity of nuclear DNA present in the cell. There is no measurable binding to mtDNA (van Zandvoort, 2002) and DRAQ5™ shows negligible binding to RNA.
DRAQ5 is highly photo-stable (Martin, 2005).
Why DRAQ5™?
There are many reasons why DRAQ5™ is the DNA dye of choice:-
IT'S EASY - ready-to-use, straight from the fridge without the complications of DMSO, thawing, aliquoting IT'S FLEXIBLE - a cross-platform DNA dye that works on live or fixed cell and tissue preparations IT'S RELIABLE - demonstrated on hundreds of cell and tissue types and remarkably photostable IT'S PROVEN - cited in thousands of peer-reviewed papers to give you confidence
DRAQ5™ can bring significant benefits to your application:

in FLOW CYTOMETRY:
simplify phenotypic analysis of blood or bone marrow by avoiding RBC lysis and washing steps
labeling of dsDNA is stoichiometric so you can measure DNA content/cell cycle position cell-by-cell
in IMAGING FLOW CYTOMETRY:
clear nuclear segmentation in the far-red for morphometrics and multi-colour analysis
in FLUORESCENCE MICROSCOPY:
skip the queue for the UV-equipped microscope with this far-red counterstain!
in HIGH CONTENT SCREENING:
faster plate-read times - no spectral overlap with majority of visible-range flours
more info from the single channel nucl:cyto segmentation
in IN-CELL WESTERNS:
robustly quantify the number of cells in each well of a microtiterplate
Technical Information
DRAQ5™ is supplied as a deep blue aqueous solution in two concentrations: 0.5mM and 5mM.
Products are shipped at ambient temperature, but on receipt packs should be stored at 2-8°C. Do NOT freeze! DRAQ5™ can come out of solution when frozen and it is difficult (but not impossible) to get it back into solution.
DRAQ5™ can be diluted in culture media (e.g. RPMI 1640) and physiological buffers (eg PBS, Hanks's, etc.) and mixed with fixatives such as formaldehyde.
You can find much more technical information in the folders below:-