Flow Cytometry / Immunophenotyping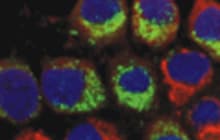 Flow cytometry allows reliable analysis of cell phenotypes and is a workhorse technique in immunology, haematology, research and clinical diagnosis.
The cell‐permeant DNA dyes DRAQ5™ and CyTRAK Orange™ make it easy to discriminate nucleated from enucleated cells reducing time consuming sample prep' while skipping the need for RBC lysis. This is great for precious or small samples.
Stoichiometric DNA labeling with DRAQ5™ will give you cell cycle status, ploidy and proliferation (S‐phase fraction) info without the hassle of permeabilization or RNase treatment.
The far‐red viability dye DRAQ7™ allows identification or exclusion of apoptotic, damaged or dead cells
Related BioStatus Products for Flow Cytometry / Immunophenotyping
Click on the orange headings to view the Application Notes